She's coming...Hurricane Irene is heading up the East Coast towards Massachusetts and my front door.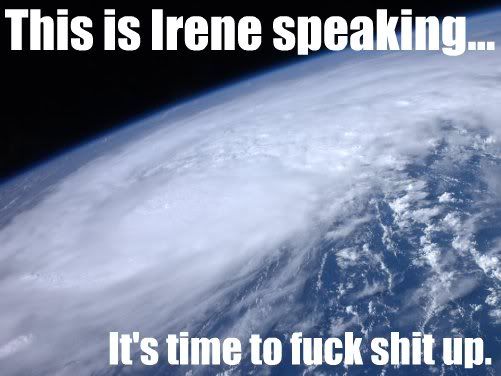 This morning's weather was quiet...even sunny for awhile. The kids went outside to ride their bikes with their friends up the street, I went out and topped off my jeep's gas tank and picked up some cash from the ATM while Steven puttered around the outside of the house getting things put away.
We went out to lunch..it was cloudy but not a speck of rain yet. Fast forward to an hour later and we left the restaurant (Red Robinnnnn...YUM!) in tropical, torrential downpouring thunderstorm. Yikes. It died down as we drove north to our house but now, three hours later it's pouring again and the road outside has become a river.
We're bracing for over seven inches of rain here along with strong winds and wind gusts. Now I'm hunkered down in front of the television watching the weather updates.
My natural mother and grandfather's wife have evacuated from coastal Delaware and moved inland. I believe they've moved my grandfather to a hospice/rehab facility for the duration of the storm. My natural aunt and her partner live on the Outer Banks of North Carolina...last I heard via FB update, they were staying put but in the next breath said that the neighbor's siding had started to fall off.
Steven and I kept ourselves busy this afternoon and cleaned and organized Chase's room...it's amazing how many clothes one little boy can have but we did weed through all of it and have figured out a better, more manageable system to deal with the remaining items.
Madelyn is in her room, also cleaning and organizing. I told her that she needs to get rid of the "little girl" stuff that she's kept since she was four and start moving towards making it a room fit for a middle school tweenager. Yikes. That scares the bejeebus out of me just to say..lol.
I know this post is all fluff but I am a bit nervous about this stupid storm and just had to babble for a few. I'll try and update later tonight with our status.